Gregory Skovoroda's Philosophy of Education: the Difference of a Modern Vision
Keywords:
interstitial of philosophy, the mobility of education, "philosophy of the heart", modern philosophy, related work, moral virtue, the modern institutionalization of knowledge, reason, rationality
Abstract
The article is devoted to the analysis of the modern character of the Gregory Skovoroda's philosophy of education. Unlike his contemporaries, he focuses on connections of philosophy and moral virtue. This position contradicts the tendency of a modern institutionalization of philosophy in the way of one more discipline of the modern research university. However, Skovoroda's critical position does not put into question the modern content of his philosophy. On the contrary, Skovoroda's understanding of philosophy reveals the salvific ways of its cognitive and practical rehabilitation. It is because his philosophy teaches people to be wise not only the university campus but in all spheres of their own lives. That is why he speaks not just of philosophy, but of the "philosophy of the heart". Contrary to Christian thought, he believes that human's transformation is possible not through faith and suffering, but through the discovery a "new body" on the ground of self-knowledge and love for oneself. Unlike the modern classical philosophy, Skovoroda considers self-knowledge, not as a function of mind alone, and the heart as a dichotomy to the mind. In accordance with contemporary educational theories based on the idea of anthropotechnical turn in philosophy, Skovoroda deems the heart an instrument for enhancing the mind. Involving the heart into the sphere of rational increases the thinking of knowledge about the specific situation of its embodiment and the cognitive capabilities of its carrier. According to Skovoroda, an important consequence of such human transformations should be the overcoming of fear and hatred of the "other".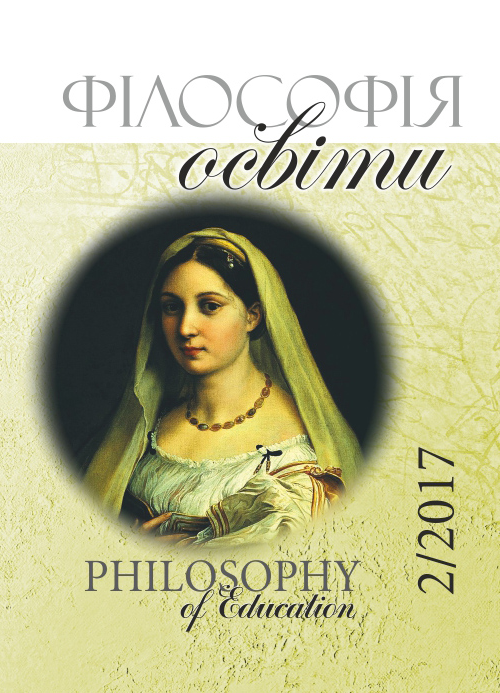 Abstract views: 873
How to Cite
Gomilko, O. (2017). Gregory Skovoroda's Philosophy of Education: the Difference of a Modern Vision. Filosofiya Osvity. Philosophy of Education, 21(2), 194–210. https://doi.org/10.31874/2309-1606-2017-21-2-194-210
License
Authors who publish with this journal agree to the following terms:
Authors retain copyright and grant the journal right of first publication;
Authors are able to enter into separate, additional contractual arrangements for the non-exclusive distribution of the journal's published version of the work (e.g., post it to an institutional repository or publish it in a book), with an acknowl­edgement of its initial publication in this journal.