Adult Education: Relevant Strategies in the Era of Globalization
Review of the monograph by Lyudmyla Gorbunova (2015) "The Philosophy of Transformative Adult education: University Policies and Practices" [In Ukrainian]
Keywords:
adult education, educational strategies, transformative adult education, nomadism, complex thinking, transhumanitarity, transversality, transculturality, transcultural competence, transversal competence, liminality
Abstract
The book is devoted to study of the phenomenon of adult education and its conceptualization based on transdisciplinary approach. It deals with the peculiarities of adult learning, the dynamics of its theoretical articulation. The author has analyzed the philosophical and methodological foundations of the contemporary theory of adult education not only in historical and philosophical context and also in the context of modern cognitive and communicative strategies. L.Gorbunova paid particular attention to transformative adult learning theory as relevant in the era of global transformations. The author for the first time has conducted justification of transformative adult education based on the complexity paradigm, and the projects of transversal and nomadological thinking, concept of transculturality and phenomenology of transcultural liminal experience. Analyzing the adult education in the context of requests for new cognitive and communication strategies L.Gorbunova offers own vision of becoming the didactics of transformative adult education based on rational discourse, critical reflection and in semantic terms of multimodal education.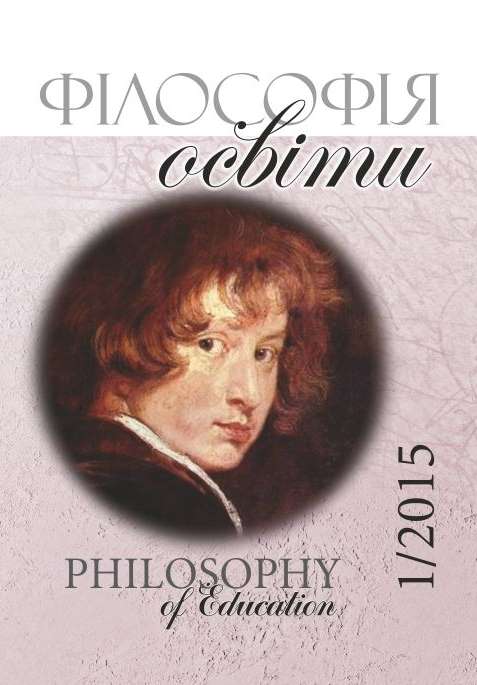 Abstract views: 304
How to Cite
Predborska, I. (2015). Adult Education: Relevant Strategies in the Era of Globalization: Review of the monograph by Lyudmyla Gorbunova (2015) "The Philosophy of Transformative Adult education: University Policies and Practices" [In Ukrainian]. Filosofiya Osvity. Philosophy of Education, 16(1), 251–257. Retrieved from https://philosopheducation.com/index.php/philed/article/view/536
License
Authors who publish with this journal agree to the following terms:
Authors retain copyright and grant the journal right of first publication;
Authors are able to enter into separate, additional contractual arrangements for the non-exclusive distribution of the journal's published version of the work (e.g., post it to an institutional repository or publish it in a book), with an acknowl­edgement of its initial publication in this journal.