Political Implications of Philosophical Pedagogy.
Reflections on Book of R. Mehring "Invention of Freedom. Something about Rise and Downfall of Philosophical Pedagogy"
Keywords:
philosophical pedagogy, Mehring, education, German idealism, freedom,, politics, industrialism, post-industrial society, reform, educational institutions
Abstract
The article proposes the critical analyses of the P. Mehring conception of philosophical pedagogy founded on the German idealism and Humboldt's philosophy of education.   Transformations of the philosophical pedagogy are considering on the background of organizing changes in the education in the industrial and post-industrial contexts with regard to its meaning, logics and causes. The advantages of the interdisciplinary approach are proving on the problem field of the philosophical pedagogy in times of its rising and falls.The restoration of philosophical pedagogy of the early and developed industrialism is proposing with its  idealistic and institutional paradigm   (Humboldt-Hegel-Spranger) and the alternative one – the critical anti-institutionalism(Nietzsche -Adorno-Foucault), The heuristic metaphor  of the invention of freedom shows on the political  engagement of  philosophical pedagogy  what has both the negative and positive aspects. Some political pathologies of the state in the early post-industrial societies need pedagogical treating. That is why the revival perspective of philosophical pedagogy is inquiring.  For this case some actual ideas of W. von Humboldt and its transformations are used to show the risks and dangerous of educational reforms in the post-industrial contexts.The Kantian and Hegelian transformations are researching with the aim to show different tendencies of the development of education in philosophical reflections of pedagogical issues with political consequences regarding as possible paradigmatic changes which can exist as complementary ones.  The coherence of political and pedagogical ideas can exist in different constellations pursuing different purposes. The pedagogical construct of freedom as autonomy was often used in the political programs and political decisions, but the political reason is also an important factor for the transformations of contemporary educational systems and practices. The pedagogical construct  of freedom foresees the autonomy of educational institutions and independency of individual which cal be lost by his transforming to a  Wikipedia-citizen.
References
Barrow R. Woods R. (2006) Philosophy of Education. New York.
Beyme K. (2000) Die politischen Theorien der Gegenwart. Eine Einführung. Wiesbaden.
Freire P. (2018) Pedagogy of the Oppressed. New York.
Harant M. (2013) Schultheorien und Deutscher Idealismus. Eine weltanschaulich-hermeneutische Analyse. Padeborn.
Kirchhof P. (2018) Beherzte Freiheit. Freiburg.
Koselleck R. (2006) Studien zur Semantik und Pragmatik der politischen und sozialen Sprache. Frankfurt.
Kultaieva M. (2018) Philosophy of Education of the Third Reich: Origin, Political and Ideological Contexts and Conceptual Constructions. Filosofiya osvity. Philosophy of Education, 22(1), 25-87 [in Ukrainian].
Kultaieva M. (2018a) The Provocative Philosophy of Education: Fata Morgana of Universalism and Temptation of Singularities (K. P. Liessmann, R. D. Precht, F. Reckwitz). Filosofiya osvity. Philosophy of Education, 23(2), 32-69 [in Ukrainian].
Maccia E. (1971) Philosophy of Schooling as Philosophy of Educational Science. Blomington.
Mehring R. (2018) Die Erfindung der Freiheit . Vom Aufstieg und Fall der Philosophischen Pädagogik. Würzburg.
Power E. (1982) Philosophy of Education. Studies in Philosophies, Schooling and Educational Polices. New Jersey.
Reder M. (2018) Philosophie Pluraler Gesellschaften. Stuttgart: Kohlhammer.
Schmitt C. (2015) Glossarium. Aufzeichnungen aus den Jahren 1947 bis 1958, Berlin.
Schnurer J. Reinhard Mehring. Die Erfindung der Freiheit: Rezension. Socionet.de/rezension/24040.php
Treml A. (2010) Philosophische Pädagogik. Die theoretischen Grundlagen der Erziehungswissenschaft. Stuttgart.
Willke H. (2016) Dezentrierte Demokratie, Berlin.
Willke H. (2019) Komplexe Freiheit. Konfigurationsprobleme eines Menschenrechts in der globalisierten Moderne, Bielefeld.
Winkler H.A. (2015) Wider die postnationale Nostalgie in: Zerreisproben. Deutschland, Europa und der Westen. München, 34-35.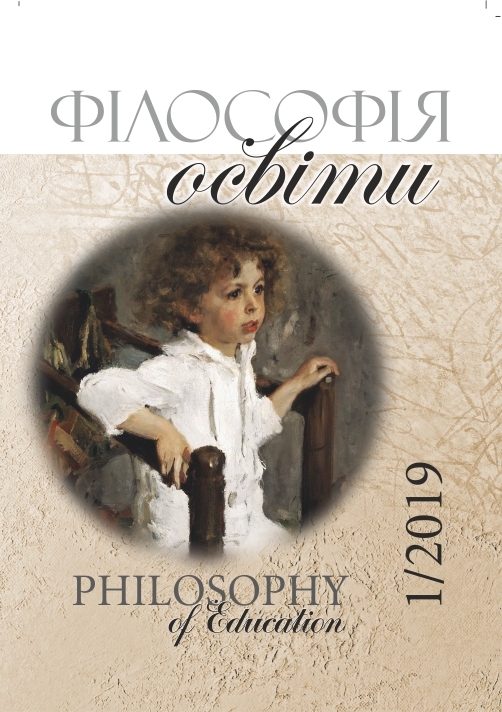 Abstract views: 389 | PDF Downloads: 201
How to Cite
Kultaieva, M. (2019). Political Implications of Philosophical Pedagogy. Filosofiya Osvity. Philosophy of Education, 24(1), 32-51. https://doi.org/10.31874/2309-1606-2019-24-1-32-51
Downloads
Download data is not yet available.
Authors who publish with this journal agree to the following terms:
Authors retain copyright and grant the journal right of first publication;
Authors are able to enter into separate, additional contractual arrangements for the non-exclusive distribution of the journal's published version of the work (e.g., post it to an institutional repository or publish it in a book), with an acknowl­edgement of its initial publication in this journal.