Education After Auschwitz
(translation, annotation and notes by Vitaliy Bryzhnik, edited by Mikhail Boychenko)
Keywords:
guilt, upbringing, education, Auschwitz, authoritarian character, culture, society, freedom
Abstract
The Ukrainian translation of the work of the German neo-Marxist philosopher Theodor Adorno "Education after Auschwitz" is dedicated to the 75th anniversary of the liberation of prisoners of the Nazi concentration camp Auschwitz. In this work, which Theodor Adorno read as a report on Hesse Radio on April 18, 1966, the previous theme of special importance – the cultivation of a new, anti-ideological education in post-totalitarian society as a means of humanistic educational influence on this society – was continued. Adorno suggested that his listeners see as a humanistic need for a post-totalitarian society to spread in its cultural space through the education the each person's understanding of own guilt for the Auschwitz tragedy. According to the philosopher, in this way, it is possible to restore the civilization of the coexistence of man and society, and it will make it impossible to repeat the horrors of the Auschwitz concentration camp. Another factor that should prevent the return of Auschwitz crimes, Adorno called the presence of knowledge about the genesis of an authoritarian character, which is the socio-psychological cause of the suffering of innocent people. Having considered the socio-cultural and anthropological factors of the emergence of an authoritarian character, Adorno identified the undoubted psychological dependence of the bearers of a manipulative character on the authoritarian government. The origins of the authoritarian government German philosopher found in the current state of European culture as one that has lost the spiritual energy needed for its own transformation. In accordance with his basic philosophical and educational beliefs, Adorno postulated the new education as an anti-ideological enlightenment, as knowledge that educates primarily politically aware young citizens, as an effective means of preventing the return of authoritarian government and, consequently, the repetition of Auschwitz.
References
Theodor W. Adorno: Erziehung nach Auschwitz // Erziehung zur Mundigkeit. Vortrage und Gesprache mit Hellmuth Becker 1959 – 1969. Herausgegeben von Gerd Kadelbach. – Fr. am M., 1970. – S. 92–109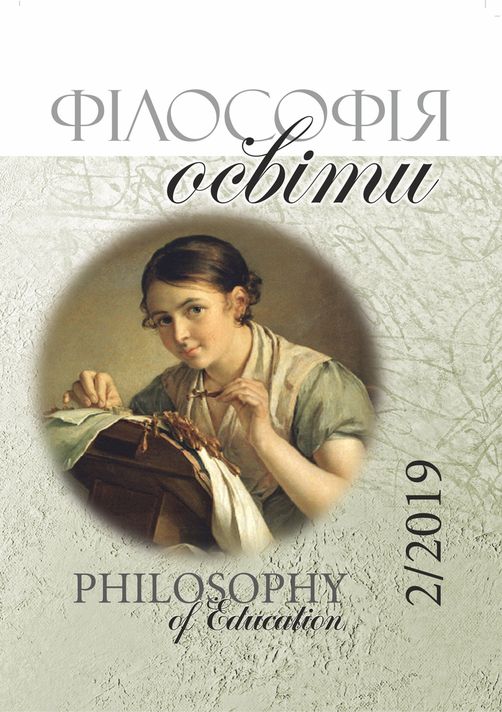 Abstract views: 2059
How to Cite
Adorno, T. W. (2020). Education After Auschwitz: (translation, annotation and notes by Vitaliy Bryzhnik, edited by Mikhail Boychenko). Filosofiya Osvity. Philosophy of Education, 25(2), 82–99. https://doi.org/10.31874/2309-1606-2019-25-2-4
License
Authors who publish with this journal agree to the following terms:
Authors retain copyright and grant the journal right of first publication;
Authors are able to enter into separate, additional contractual arrangements for the non-exclusive distribution of the journal's published version of the work (e.g., post it to an institutional repository or publish it in a book), with an acknowl­edgement of its initial publication in this journal.