The Provocative Philosophy of Education: Fata Morgana of Universalism and Temptation of Singularities (K. P. Liessmann, R. D. Precht, A. Reckwitz)
Keywords:
philosophy of education, provocation, knowledge society, K.P. Liessmann, R.D. Precht, A. Reckwitz, reform, cultivated man, education, pathology
Abstract
Some polemic versions of the contemporary philosophy of education are regarded which lend it the character of the provocatively through setting accents on the intern paradoxes of changes designed of the educational modernization and formed under the pressure of globalization. The contextual conditions of the postindustrial transformations in the educational system are explicated which were structured by the influences of the industrial imperatives. The theoretical explorations of K.P. Liessmann, R.D. Precht   and A. Reckwitz were chosen to show the structure and the content of changes in education including the consequences of the educational globalization. The tendency to refuse the European educational priorities is critically analyzed. There is the negative way to state the logic of the industrialism as the logic of the universality preserving postmodern singularity of the educational institutions what makes evident the ambivalence of the knowledge society. Some attempts are explicated, which try to give rehabilitation for the "useless knowledge" in the curriculum options what is connected with getting back the ideal of the cultivated man and with actualizing the hidden senses of conservatism (Liessmann) or pseudo-revolutionary appeals (Precht). The provocative philosophy of education in its different representations might be regarded as a special mode for activation of the theoretical critical thinking with the purpose for early detecting of risks, cultural and pedagogical pathologies appearing through postindustrial shifts in the culture, which can provoke some symptoms of the re-feudalization in the academically communities. It is concentrated not only on the positive side of the educational transformations, but else on their negative effects, loading of social and psychological traumas, and proposes different variants answering on the claims of the contemporary education aiming their additionally verification. The intrinsic contradictoriness of this kind of philosophy can be acceptable as a articulating of its openness, connected with its principle infinitely, and might be regarded as productive strategy of communication in the discourse devoted to the perspective of the development of education in the uncertain postindustrial conditions.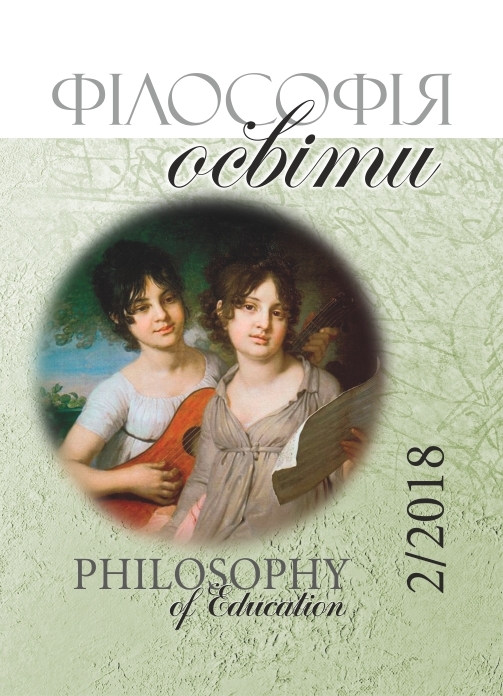 Abstract views: 852
How to Cite
Kultaieva, M. (2018). The Provocative Philosophy of Education: Fata Morgana of Universalism and Temptation of Singularities (K. P. Liessmann, R. D. Precht, A. Reckwitz). Filosofiya Osvity. Philosophy of Education, 23(2), 32–69. https://doi.org/10.31874/2309-1606-2018-23-2-32-69
License
Authors who publish with this journal agree to the following terms:
Authors retain copyright and grant the journal right of first publication;
Authors are able to enter into separate, additional contractual arrangements for the non-exclusive distribution of the journal's published version of the work (e.g., post it to an institutional repository or publish it in a book), with an acknowl­edgement of its initial publication in this journal.