Art and Bioethics: Shift/Fusion of Understanding Genres
Keywords:
bioethics, art, science art, bioart, medicine/bioethics in art
Abstract
A fusion of «bioethics» and «art» changes the means and ways of broadcasting art in the field of new biotechnological achievements and recalls responsibility in science. Bioethics socializes art. Art popularizes bioethics and complements its «experience of comprehension» with aesthetic experiences. The article analyzes the connections that unite bioart with science and bioethics. Examples of creative bioart projects at the World Congresses on Bioethics, which draw attention to the installation and performative forms, expressing the artistic experience of bioethical values and meanings that museums and other public fields represent, are given. The processes of forming links between laboratory research (often hidden from public attention) and art-works through practical experiment, dialogue, observation, or play are analyzed. The tandem of art and bioethics provides a link between scientists and the public, reveals new possibilities for ethical reflection, and represents a living manifesto of overcoming the disunity of scientific and everyday practices. Art and bioethics are sources of inspiration for each other. Not only does art expand its boundaries, transforming a scientific experiment into an artistic process, but also bioethics is entering a new level of research and discussion, reinforcing its creative potential through art. Despite the fact that they differ in genre, they create a common space of rational discourse as well as a common ground for familiarizing with the artistic experience in the process of their cooperation and communication, with the purpose of understanding the emerging problems, attracting to them not only professionals, but also broad circle of people interested in bioethical issues.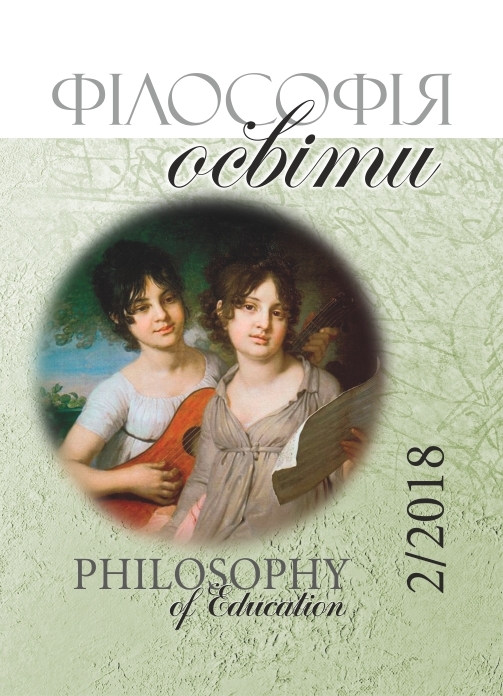 Abstract views: 733
How to Cite
Hubenko, H. (2018). Art and Bioethics: Shift/Fusion of Understanding Genres. Filosofiya Osvity. Philosophy of Education, 23(2), 245–258. https://doi.org/10.31874/2309-1606-2018-23-2-245-258
License
Authors who publish with this journal agree to the following terms:
Authors retain copyright and grant the journal right of first publication;
Authors are able to enter into separate, additional contractual arrangements for the non-exclusive distribution of the journal's published version of the work (e.g., post it to an institutional repository or publish it in a book), with an acknowl­edgement of its initial publication in this journal.