Mass culture, education and the perspective of individuality
Keywords:
Adorno, Horkheimer, Ortega y Gasset, Marcuse, mass culture, production, education, individuality
Abstract
For Adorno and Horkheimer, rationalism – in fact, a technical rationalism which becomes a rationalism of domination– failed to provide the path to the liberation of man and society. The aftermath, half education of the masses, is not an incomplete education or lack of education, but substantially hostility towards culture and genuine education, decay and involvement of education in individual considerations and benefits, with the contribution of mass dissemination of culture and art. Half education is the spread of culture and art without a living relationship with the consciousness of people, without consequences for their lives. Adorno clarifies that in this context, the relationship between life and production reduces the former into the transitory epiphenomenon of the latter, as life and individual existence are not known in their immediacy, they do not connect directly, but they rather become part of the teaching for of material production. For Ortega y Gasset, a new type of human being has been born, the massman, who becomes isolated, trapped in the irrational feeling that nothing else, apart from his own private welfare, matters, but he also continues to demand as if it were his natural right to do so. Nonetheless, and although he remains an individualist, he does not have real access to the gifts of individuality. Marcuse understands that, ultimately, there is a conflict between production and profit on the one hand and self-determination on the other. As technology spreads its dominance over nature, man conquers man through mass control, diffused through work and culture. In this way, technological rationalism becomes ultimately political rationalism.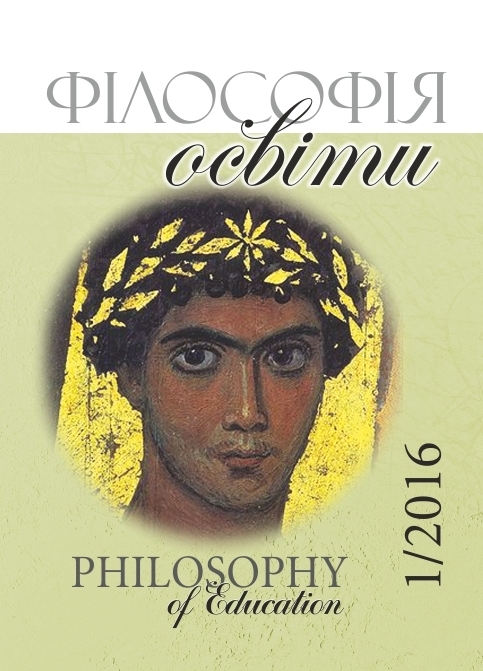 Abstract views: 597
How to Cite
Eliopoulos, P. (2016). Mass culture, education and the perspective of individuality. Filosofiya Osvity. Philosophy of Education, 18(1), 36–46. https://doi.org/10.31874/2309-1606-2016-18-1-36-46
License
Authors who publish with this journal agree to the following terms:
Authors retain copyright and grant the journal right of first publication;
Authors are able to enter into separate, additional contractual arrangements for the non-exclusive distribution of the journal's published version of the work (e.g., post it to an institutional repository or publish it in a book), with an acknowl­edgement of its initial publication in this journal.