Western Liberalism At Twilight (?)
Keywords:
Western liberalism, global capitalism, socialism, justice, democracy, majority rule, twilight
Abstract
The chorus of doubts concerning the continued viability of the Western liberal tradition itself, in both ideational and institutional aspects, has grown much louder over the past several years. Can this tradition be said to be in a time of twilight – that time that falls? It is this question that would be explored in this paper. While searching the confirmation of the position, indicated in the title of the paper, author turns to contemporary ideological sources of Western liberalism. Such concepts as capitalism, socialism, justice, democracy are considered in this context based on the works of two thinkers, John Rawls and Fred Dallmayr. By stressing ideal justice and ignoring concrete injustice, Rawls' ideas seem strange even apart from the present crisis. The subsequent evolution of his thoughts is estimated by the author as the transition from daylight to twilight. It has manifested in Rawls' refusal to apply his principles of justice to the international arena, his condescending attitude toward underdeveloped countries. The atmosphere of The Law of Peoples is still redolent of the assumption of American hegemony. The author wishes to extract from Dallmayr's book for present purposes is above all his commitment to a version of socialism. But what neither Dallmayr nor Rawls and other liberal thinkers will gainsay is that central to the twilight zone in which we are wandering is the heavy hand of global capitalism. The next problem is that the modern liberal democratic theory has always professed to make the assumption of equality, but it has never fully embraced it. The most important conceptual element in accounting for this failure is the notion of majority rule. The author mentions three difficulties with the idea of majority rule: the problem of time and the problem of the identity of the human units who compose the majority, and the problem of information. He analyzes the recent political evolutions of both the United Kingdom and the United States, and France as well, which have certainly given Western liberalism a badname in many quarters.
References
Dallmayr, F. (2019) Post-Liberalism: Recovering a Shared World, Oxford: Oxford University Press, book jacket.
Derrida, J. (2005) Rogues: Two Essays on Reason. Translated by Pascale-Anne Brault and Michael Naas. California: Stanford University Press.
Gramsci, A. (1989) Selections from the Prison Notebooks. Translated & Edited: Quintin Hoare and Geoffrey Nowell Smith. New York: International Publishers.
Hobbes, Thomas (1839-45). Leviathan, Ch. XVII. In: The English Works of Thomas Hobbes of Malmesbury; Now First Collected and Edited by Sir William Molesworth, Bart., (London: Bohn), 11 vols. Vol. 3. URL: https://oll.libertyfund.org/titles/585
Honneth, A. (2017) The Idea of Socialism: Towards a Renewal. Cambridge: Polity.
Kendall, W. (1941) John Locke and the Doctrine of Majority-Rule. Urbana, Illinois: University of Illinois Press.
Locke, John (2012) The Second Treatise of Civil Government, Ch. VIII, Ch. XI. URL: https://english.hku.hk/staff/kjohnson/PDF/LockeJohnSECONDTREATISE1690.pdf
Marx, K. (1990) Capital: A Critique of Political Economy. Penguin Books Limited.
McBride, W. (1972). Social Theory Sub Specie Aeternitatis: A New Perspective, 81 Yale Law Journal 980, p. 990.
Nozick, R. (1974) Anarchy, State, and Utopia. New York: Basic Books and Oxford: Basil. Blackwell.
Rawls, J. (1971) A Theory of Justice. Harvard University Press.
Rawls, J. (1993a) Political Liberalism. Columbia University Press.
Rawls (1993b) The Law of Peoples. In: Steven Shute and Susan Hurley (eds.) On Human Rights: The Oxford Amnesty Lectures. New York: Basic books.
Walzer, M. (1983) Spheres of Justice: A Defense of Pluralism and Equality. New York: Basic books.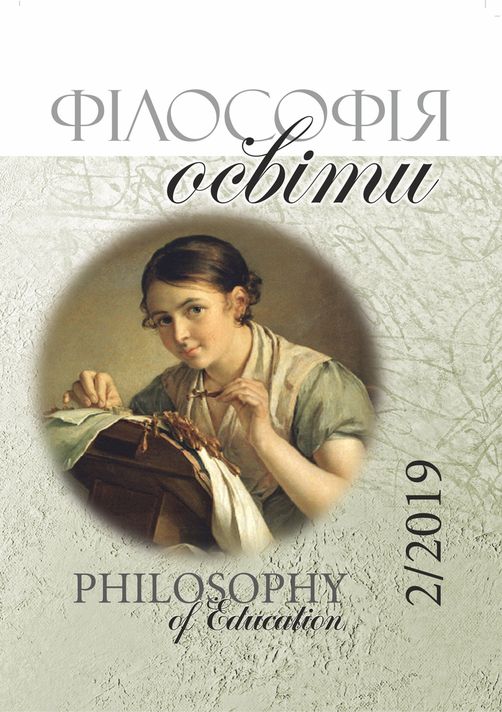 Abstract views: 535
How to Cite
McBride, W. L. (2020). Western Liberalism At Twilight (?). Filosofiya Osvity. Philosophy of Education, 25(2), 211–223. https://doi.org/10.31874/2309-1606-2019-25-2-11
License
Authors who publish with this journal agree to the following terms:
Authors retain copyright and grant the journal right of first publication;
Authors are able to enter into separate, additional contractual arrangements for the non-exclusive distribution of the journal's published version of the work (e.g., post it to an institutional repository or publish it in a book), with an acknowl­edgement of its initial publication in this journal.