Nonhuman dimensional Components of Human Dimensionality
Keywords:
measurement, human-dimensional system, postnonclassical methodology, interdisciplinarity, psychosynergetics, psycho-dimensionality, system "driver/ person–vehicle–environment" [D–V–E], safety
Abstract
This article provides an analysis of the potential of the concept of «human-dimensionality» and post-non-classical possibilities of technology to develop a methodological solution to the problem of security human-dimensional macrosystem «driver–vehicle–environment» [D–V–E]. Postnonclassical methodology claims a new type of scientific rationality. The necessity of implementing new strategies of learning and self-organizing activities human dimensional objects that first put forward an interdisciplinary approach. The second feature of the new strategies is to understand and learn how to manage them, without losing the «human in man», how to manage human-dimensional systems and to preserve man and Nature. These issues involved one of the promising directions of postnonclassics – psychosynergetic whose main objective is the development of strategies for safe human activity. Proved the efficiency of the new concept of psychosynergetic «whole in a whole» (or «environment in environment») for research and modeling complex systems, whose functioning is present (involved). This article examines different aspects of human-dimensionality and identified those that can be transmitted more effectively by the robot. In the study of human-dimensional systems a significant role is played by the moral principles (values). Thе guidelines have not only knowledge, but moral principles (ethical norms), which are restrictions on unsafe actions for humans and Nature. It is shown the efficiency of using the postnonclassical methodology in the design of the automobile to increase the safety and reduce the trauma and costs in human-dimensional system [D–V–E]. The hypothesis on the need when designing a safe car to take into account the degree of difference of subclass of vehicle systems and humans, their models and principles of behavior patterns. Postnonclassical methodology allows to investigate the system [D–V–E] as human-commensurability and human-dimensional one and while understanding the principles of complex behavior of such systems, to identify ways to ensure its safety for humans and Nature.
References
Андрущенко В. Філософія освіти / В. Андрущенко, І. Предборська. – Київ, 2009. – 230 с.
Астафьева О.Н., Добронравова И.С. Социокультурная синергетика в России и Украине: предметная область, история и перспективы / О.Н. Астафьева, И.С. Добронравова // В кн.: Постнеклассика: философия, наука, культура: Коллек¬тивная монография. / Отв. ред. Л.П. Киященко, В.С. Степин. – СПб.: Издатель¬ский дом «Міръ», 2009. – С. 634–664.
Бевзенко Л.Д. Социальная самоорганизация. Синергетическая парадигма: возможности социальных интерпретаций. – К.: Институт социологии НАН Украины, 2002. – 437 с.
Богатая Л.Н. На пути к многомерному мышлению: монография / Л.Н. Богатая. – Одесса: Печатный дом, 2010. – 372 с.
Гончарова О.Е. Искусственное и естественное в системе «водитель–автомо¬биль–среда» / О.Е. Гончарова // Міжнародна наукова конференція "Дні науки філософського факультету – 2014", 15-16 квітня 2014 р.: (матеріали доповідей та виступів) – К.: Видавничо-поліграфічний центр «Київський університет», 2014. – Ч. 4.– С. 15–17.
Горбунова Л.С. Філософія трансформативної освіти для дорослих: університет¬ські стратегії і практики: монографія. Суми: Університетська книга, 2015. – 710 с.
Добронравова И.С. Синергетика: становление нелинейного мышления / И.С. Добронравова.– Киев: «Лыбидь», 1990. – 150 с.
Донникова И.А. Культурогенная сущность социальной самоорганизации: моно¬графия. – Одесса: Печатный дом, 2011. – 280 с.
Донникова И.А. Человекомерность в постнеклассическом понимании / И.А. До¬нникова // Міжнародна наукова конференція "Дні науки філософського факуль¬тету – 2012", 18-19 квітня 2012 р.: (матеріали доповідей та виступів) – К.: Видавни¬чо-поліграфічний центр «Київський університет», 2014. – Ч. 3.– С. 74–76.
Ершова-Бабенко И. В. Психосинергетические стратегии человеческой деятель¬ности. (Концептуальная модель). Монография / Ирина Викторовна Ершова-Ба¬бенко. – В.: NOVA KNYHA, 2005. – 360с.
Ершова-Бабенко И.В. Место психосинергетики в постнеклассике / И. В. Ершо¬ва-Бабенко // В кн.: Постнеклассика: философия, наука, культура: Коллектив¬ная монография. / Отв. ред. Л.П. Киященко, В.С. Степин. – СПб.: Издательский дом «Міръ», 2009. – С. 460 – 488.
Ершова-Бабенко И. В. Проблема взаимоотношений нанотехнологий и челове¬комерности. Осмысление происходящего и поиск исследовательской модели / И. В. Ершова-Бабенко // Інтегративна антропологія. – 2013. – № 1. – С. 7–16.
Ершова-Бабенко И. В. Психомерные среды в контексте психосинергетики и их роль в постнеклассическом понимании социума – нелинейное целое в нелиней¬ном целом / И. В. Ершова-Бабенко // Синергетическая парадигма. Социальная синергетика. – М.: Прогресс – Традиция, 2009. – С. 314–327.
Ершова-Бабенко И.В. Макромодель «водитель–автомобиль–среда» и проблема взаимодействия систем разного класса в аспекте концептуальной модели психо¬синергетики «целое в целом» / И.В. Ершова-Бабенко, О.Е. Гончарова // Науко¬вий вісник Міжнародного гуманітарного університету. Серія: Історія. Філософія. Політологія. – 2015. – Вип. 10. – С. 52–59.
Князева Е.Н., Курдюмов С.П. Синергетика как новое мировидение: диалог с И. Пригожиным // Вопросы философии. – 1992. – № 12. – С. 3–20.
Князева Е. Н. Законы эволюции и самоорганизации сложных систем / Е. Н. Князева, С. П. Курдюмов. – М.: Наука, 1994. – 236 с. – (Серия «Кибернетика – неограниченные возможности и возможные ограничения).
Конвергенция биологических, информационных, нано- и когнитивных техно¬логий: вызов философии (материалы «круглого стола»). // Вопросы философии. – № 12. – 2012. – С. 3–24.
Кочубей Н.В. Синергетические концепты и нелинейные контексты: моногра¬фия / Н. В. Кочубей. – Сумы: Университетская книга, 2009. – 236 с.
Мелков Ю.А. Человекомерность постнеклассической науки. Монография / Юрий Александрович Мелков. – К.: Издатель ПАРАПАН, 2014. – 254 с.
Стёпин В. С. Научное познание и ценности техногенной цивилизации // Вопросы философии. – 1989. – № 10. – С. 3–18.
Степин В.С. Классика, неклассика, постнеклассика: критерии различения / В.С. Степин // В кн.: Постнеклассика: философия, наука, культура: Коллективная монография. / Отв. ред. Л.П. Киященко, В.С. Степин. – СПб.: Издательский дом «Міръ», 2009. – С. 249–295.
Талеб Нассим Николас. Антихрупкость. Как извлечь выгоду из хаоса / Нассим Николас Талеб; Пер. с англ. – М.: КоЛибри, Азбука-Аттикус, 2014. – 2014. – 768 с.
Философия науки. – Вып. 8: Синергетика человекомерной реальности // Ответственные редакторы В.И. Аршинов, Л.П. Киященко, П.Д. Тищенко. – М., 2002. – 428 с.
Ханжи В.Б. Парадигмы времени: от онтологического к антропологическому по¬ниманию: монография / В.Б. Ханжи. – Херсон: Гринь Д.С., 2014. – 360 с.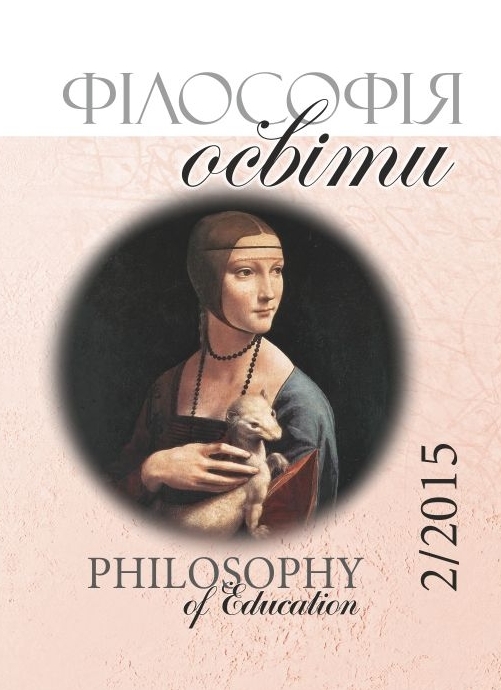 Abstract views: 290
How to Cite
Yershova-Babenko, I., & Goncharova, O. (2015). Nonhuman dimensional Components of Human Dimensionality. Filosofiya Osvity. Philosophy of Education, 17(2), 243–259. Retrieved from https://philosopheducation.com/index.php/philed/article/view/517
License
Authors who publish with this journal agree to the following terms:
Authors retain copyright and grant the journal right of first publication;
Authors are able to enter into separate, additional contractual arrangements for the non-exclusive distribution of the journal's published version of the work (e.g., post it to an institutional repository or publish it in a book), with an acknowl­edgement of its initial publication in this journal.