Upbringing – why?
(translation, abstract and notes by Vitalii Bryzhnik)
Keywords:
education, upbringing, adoption, ideology, conformism, consciousness, experience, responsibility, individualization, individuum
Abstract
This conversation by social philosopher Theodor Adorno, a representative of the critical theory of society, with Hellmut Becker, a political publicist and theorist of education, took place in 1966 and was published in the collection of Theodor Adorno`s philosophical and educational works  Upbringing to responsibility. By this conversation Adorno and Becker critically examined the many aspects of the then West German education, which they believed did not fulfill their main task – it did not encourage the representatives of West German youth to become socially active people. According to Adorno and Becker, then education did not upbringing them as members of a democratic society, as people who must independently apply their own minds in a society whose democratic changes must be completely unchanged. Reflecting on the goal of proper education, these German intellectuals have defined the essence of democracy as the embodiment of such political governance, which requires the active use of intelligence by any member of society. Thus, the consciousness of an individual, activated by the educational effect of education on himself, education, which understands the correct purpose of its work, can withstand the influence on itself of the social ideology of a conformist society, the reality of which has distinct signs of cultural stagnation. Adorno and Becker agreed to call such man as responsibility man. However, in their  opinion, education that holds on the traditional principles of upbringing leads to the formation of such a rational adaptation of man to the social world, which only increases the extent of its conformism. They also called the consequence of the influence of this social ideology on the human consciousness of her inability to hold on to the experience has gained in the society that makes a person a thing. Therefore, these German intellectuals drew attention to the phenomenon of primary and preschool education of the child, also noted the peculiarities of the period of puberty, suggesting that they be understood as possible factors for the successful overcoming of traditional upbringing. According to Adorno and Becker, by making to updated upbringing, the new education must effectively apply in its process the spontaneity of personal thinking of man. At the same time this unity of education and education effectively enabling the process of individualization of a man and will destroy the ideological tendency to preserve the principle of anti-individualism in the upbringing. This will happen due to the active participation of the new individuum, a person who is able to consciously resist any ideological influences on the collective consciousness of society.
References
Аdorno Theodor W. Erziehung – wozu? // Erziehung zur Mündigkeit. Vorträge und Gespräche mit Hellmuth Becker, 1959-1969. Herausgegeben von Gerd Kadebach. – Fr. am Main: 1970. – S. 110-125.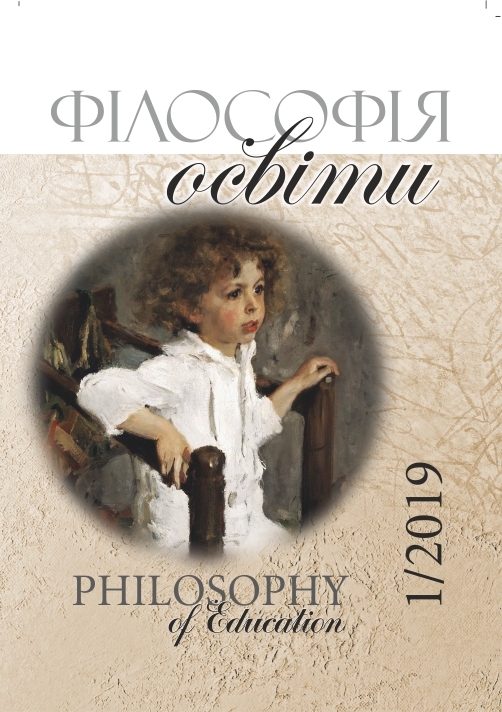 Abstract views: 380 | PDF Downloads: 125
How to Cite
Adorno, T. (2019). Upbringing – why?. Filosofiya Osvity. Philosophy of Education, 24(1), 6-23. https://doi.org/10.31874/2309-1606-2019-24-1-6-23
Downloads
Download data is not yet available.
Copyright (c) 2019 Filosofiya osvity. Philosophy of Education
This work is licensed under a Creative Commons Attribution 4.0 International License.
Authors who publish with this journal agree to the following terms:
Authors retain copyright and grant the journal right of first publication;
Authors are able to enter into separate, additional contractual arrangements for the non-exclusive distribution of the journal's published version of the work (e.g., post it to an institutional repository or publish it in a book), with an acknowl­edgement of its initial publication in this journal.