A Study on the Evaluation Model of Moral Judgment Education
Keywords:
evaluation model, moral judgment education, constructivism, complex thinking
Abstract
Moral Judgment, one of the key elements in moral education, has seen no significant progress since the cognitive moral education model developed by Piaget and Kohlberg in the 1980s. Although this model has been criticized in many ways, it is still the dominant model in Korea. In 2000, the theory of knowledge has undergone revolutionary
change — from objective view of theory to the constructivist view of knowledge; from modernism to post-modernism; and from academism to pragmatism. Such change has shaken the existing cognitive approach at its root and requires a new model of moral judgment education. If moral knowledge is objective, modernistic and is based on academism, the moral judgment based on such moral knowledge is simple in its form. It is like applying a simple mathematic formula. However, moral knowledge is constructivist, post-modern and pragmatic, then moral judgment cannot be but complex. The same is for the evaluation of moral judgment education. Although constructivist-based moral judgment education
was introduced in new curriculum, appropriate evaluation model was not developed so far. This study proposes that Matthew Lipman's Philosophy for Children model is suitable as the new evaluation model for moral judgment education. Of course, Matthew Lipman himself did not systematically develop an evaluation model for moral judgment education. However, he paved a way a new evaluation model. We can find some suggestions from his books, Lisa and Nous, the text for moral judgment education, and manual for instructors, respectively. This paper is the extended research of his study and is in memory of him who passed away in 2011.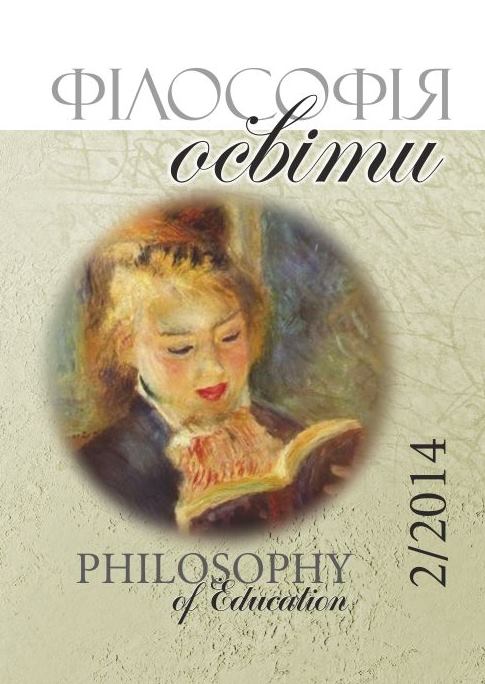 Abstract views: 272
How to Cite
Park, J.-W. (2014). A Study on the Evaluation Model of Moral Judgment Education. Filosofiya Osvity. Philosophy of Education, 15(2). Retrieved from https://philosopheducation.com/index.php/philed/article/view/500
License
Authors who publish with this journal agree to the following terms:
Authors retain copyright and grant the journal right of first publication;
Authors are able to enter into separate, additional contractual arrangements for the non-exclusive distribution of the journal's published version of the work (e.g., post it to an institutional repository or publish it in a book), with an acknowl­edgement of its initial publication in this journal.