Philosophy and Philosophical Education in Kazimierz Twardowski's Interpretation
Keywords:
Polish philosophy, Kazimierz Twardowski, philosophy, philosophical education
Abstract
Philosophy determination, its place and purpose in human life and society is the eternal philosophical problem. In this paper the reader is suggested to analyze the attempt of its solving by outstanding Polish philosopher Kazimierz Twardowski. Free from the extremes of metaphysics and minimalism, Kazimierz Twardowski's philosophy has not only created the conditions for philosophical culture development, but has also brought up a pleiad of philosophically educated scientists. What are the peculiarities of Kazimierz Twardowski's philosophy? On the bases of philosophical papers analysis, scientific and historical definition of the concept of philosophy has been carried out. It is proved, that the scientific concept of philosophy, as one of the components of polylogue manifestation of the human spirit, dissolves in historical concept of philosophy. Such philosophy understanding
brought the philosopher to the conclusion about vital human and social necessity in philosophy. If a man and society do not feel the necessity in philosophy, due to the lack of their spiritual culture, this necessity should be grown. Therefore, the care about philosophical education was one of the main goals of Twardowski's life. The scientist interpreted philosophical education as a part of general education. He determined philosophy studies as a way of life and a school of thinking. Due to this, Twardowski believed that method studying as natural means of knowledge and self-cognition is a humane act promoting creating man's own view of the world. Special understanding of the philosophy and the background of its development – philosophical education by talented scientist and teacher – encourages reflection on the problems in the field of Ukrainian philosophy. Philosophical and pedagogical understanding of Twardowski's experience is relevant in the context of increasing complexity of modern relationships between a man and society.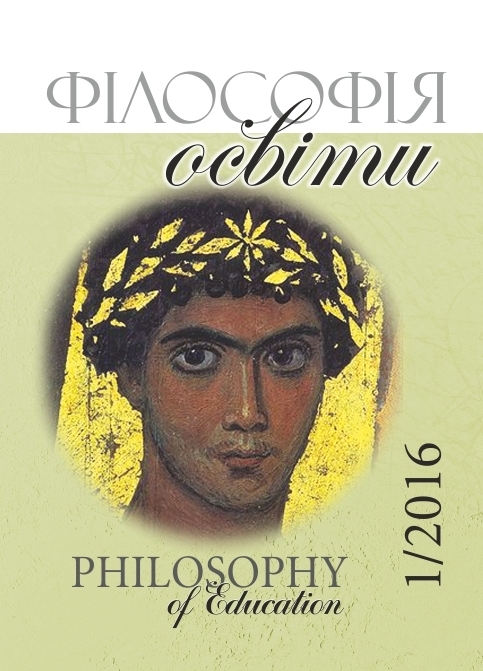 Abstract views: 478
How to Cite
Honcharenko, O. (2016). Philosophy and Philosophical Education in Kazimierz Twardowski's Interpretation. Filosofiya Osvity. Philosophy of Education, 18(1), 221–237. https://doi.org/10.31874/2309-1606-2016-18-1-221-237
License
Authors who publish with this journal agree to the following terms:
Authors retain copyright and grant the journal right of first publication;
Authors are able to enter into separate, additional contractual arrangements for the non-exclusive distribution of the journal's published version of the work (e.g., post it to an institutional repository or publish it in a book), with an acknowl­edgement of its initial publication in this journal.