New Ukrainian school: an attempt of philosophical and anthropological comprehension
Abstract
Аналізується освітня концепція «Нова українська школа» в контексті  філософської антропології, «людиномірності» освітнього пізнання та  нового підходу до феномена людини, зокрема, подолання методології антропоцентризму. Поглиблено інтерпретаційне обґрунтування значущості нового способу мислення для формування нового змісту освіти, нових освітніх програм та моделей. Обґрунтовано положення про нового українського вчителя як майстра прокладання траєкторії життєвого шляху особистості (від дитини до молодої людини), яка перебуває в неврівноваженому стані. Показано, що буття в умовах цивілізаційної невизначеності прирікає людину на соціальну невпевненість, посилює пасивність, призводить до байдужості. Проте завдяки освіті, самоорганізовуючись і саморозвиваючись, індивід оволодіває сучасними науковими знаннями і глобальними компетентностями, може потурбуватися про своє існування, протистояти згубним тенденціям олігархічного неофеодалізму, прогнозувати характер перебігу соціальних та культурних процесів, самостійно розв'язувати свої проблеми і бути успішним. Розв'язання ключової проблеми державної освітньої політики – підвищення якості знань – автор пов'язує з науково-дослідницьким проектом розвитку закладів загальної середньої освіти на засадах трансгуманітарної методології, підкріпленої новою філософською антропологією, філософією складності, самоорганізації, нестабільності та креативного мислення.
References
Gomilko, O. (2015). Knowledge Society as a Challenge to Rationality. Filosofija osvity. Philosophy of Education, 1 (16), 26–38 [In Ukrainian]. URL:www.philospheducatiom.com
Gorbunova, L. (2015). Philosophy of Transformative Adult Education: University Strategies and Practices: Monograph. Sumy: Universytets′ka knyha [In Ukrainian]. URL: http://ihed.org.ua/ua/rekomend-dzerela-r.html
Gorbunova, L., Zhlinska N., Proleiev S. et al. (2011). Transhumanitarity as a Factor in the Development of Present Science and Education. Filosofija osvity. Philosophy of Education, 1–2 (10), 97–141 [In Ukrainian]. URL:www.philospheducatiom.com
Kaku, M. (2017). Physics of the Future: How Science Will Shape Human Destiny and Our Daily Lives by the Year 2100. Lviv: Litopys [In Ukrainian]. URL: http://www.brautech.co.za/info/FuturePhysics.pdf
The Concept of Implementation of the State Policy in the Reform of General Secondary Education "New Ukrainian School" for the period up to 2029 (2016). The Decree of the Cabinet of Ministers of Ukraine dated December 14, 2016 No. 988-p. URL: http // www.kmu.gov.ua
Hamitov, N. (2017). Philosophical Anthropology: Actual Problems. From theoretical to practical turning. K.: KNT [In Ukrainian].
Khoruzhy, S. (2010). The lantern of Diogenes. Critical retrospective of European anthropology. M.: Institute of Philosophy, Theology and History of St. Foma [In Russian].
Pyrozhkov, S., Mayboroda, O., Shajgorodsky, Yu. (Ed. Col.) (2016). Ukraine's Civilizational Choice: An understanding paradigm and a strategy for action. Institute of Political and Ethnonational Studies at National Academy of Sciences of Ukraine [In Ukrainian].URL: http://www.nas.gov.ua/UA/Messages/news/Pages/View.aspx?MessageID=3283
Elias, N. (2001). Society of Individuals. M.: Praksis, Part 1 [In Russian].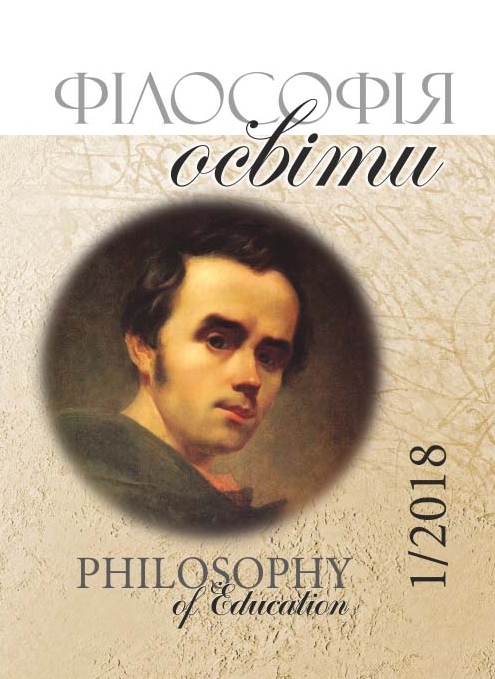 How to Cite
Dovbnya, V. (2018). New Ukrainian school: an attempt of philosophical and anthropological comprehension. Filosofiya Osvity. Philosophy of Education, 22(1), 240-258. https://doi.org/10.31874/2309-1606-2018-22-1-240-258
This work is licensed under a Creative Commons Attribution 4.0 International License.
Authors who publish with this journal agree to the following terms:
Authors retain copyright and grant the journal right of first publication;
Authors are able to enter into separate, additional contractual arrangements for the non-exclusive distribution of the journal's published version of the work (e.g., post it to an institutional repository or publish it in a book), with an acknowl­edgement of its initial publication in this journal.