Integration and Polymorphism of Knowledge in Higher Education
Abstract
To disclose knowledge polymorphism and integration under crisis condition of Cartesian scheme of university system of education and doctrine of specializations is the purpose of the article. The loss of trust to idealistic superstructures and meta-narrative make higher school to search for a new paradigm of development, to carry out institutional re-structuring on a basis of «arts and sciences of the new degrees* such as designing effective competences and qualifications of the High School graduates. Plurality of integration interpretations as a principle and mechanism of Higher Education is found out in the forms of internal-subject, «expansionist», philosophical, information science, technological, personality-oriented knowledge integration, and also interdisciplinary, trans-disciplinary and post-disciplinary university. The distinction between holistic, transversal and «aesthetic» types of knowledge integration depending on understanding of a hierarchy between «whole», «sum of the parts of the whole» and «all» is given. The education formation and information compression by means of visualization on the basis of aesthetic laws are investigated. The alternatives to the ideal of science unity, holistic pseudo-integration concepts, and extensive integration didactics are found out. Integration processes are conceptualized in the holographic model of Higher Education as a unity of subject (resological), basic (knowledge) and communicative «waves of education* based on comprehension of a man as «a cross-point of all plans of being». Philosophy of Education is treated as a theory of integration of a man with the world, society and «the world of knowledge*, and practical problems of the educational programs and new specialties designe — as a challenge to its development.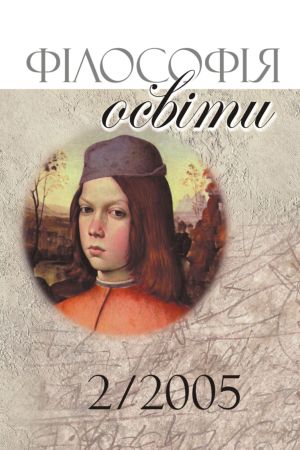 Abstract views: 281
How to Cite
Klepko, S. (2005). Integration and Polymorphism of Knowledge in Higher Education. Filosofiya Osvity. Philosophy of Education, 2(2). Retrieved from https://philosopheducation.com/index.php/philed/article/view/105
License
Authors who publish with this journal agree to the following terms:
Authors retain copyright and grant the journal right of first publication;
Authors are able to enter into separate, additional contractual arrangements for the non-exclusive distribution of the journal's published version of the work (e.g., post it to an institutional repository or publish it in a book), with an acknowl­edgement of its initial publication in this journal.