The Oughtness of the Politics and Culture of 'Created' Identities for Teaching Nigerian History: A Case Study of the Egbe Omo Oduduwa
Keywords:
Culture and Religion, Egbe Omo Oduduwa Identity, Kwame Appiah, Yoruba
Abstract
History education has been able to give a flowing account of how various cultures have been co-existing prior European encounter. The historical account has evolved from the mythical stage into the scientific stage with evidence adduced and coming forward to revise and even correct initial assumptions. In the face of these revisions and corrections, it is not in place to demand: how do we teach African history to students? What is the connection between religion and culture in the making of a people? Using Kwame Appiah's cosmopolitan perspective as my theoretical framework and through the method of philosophical analysis, I tender that the idea of an identity that is distinct or peculiar to a particular people cannot be reliable. To make my point lucid, this research uses the Yoruba of south-west Nigeria as paradigm. I contend that the emergence of Egbe Omo Oduduwa is not tied to a special or peculiar identity, but a surge in the need to emphasize common grounds over differences in order to establish a common cause for a perceived identity. The point that has been established thus far is that all the small kingdoms and mighty empires that claim to share the Yoruba identity in contemporary times, were hitherto sworn enemies who hardly perceive things from a similar perspective. It is however interesting to note that it was during the colonial era and the press for political independence that informed the need to coalesce and create an identity from that which cuts across all of them to initiate a common denominator. From the exploration of the Yoruba peoples from earliest times to the present times, it is the case that there was no perception of common ground prior 1945. The factors that led to the recognition of a common ground are tied to the struggle for liberation from foreign powers. It is on this that note that this research submits that identities are human creations and they neither primordially original nor pure.
References
Achebe, C. (1982). Interview (Anthony Appiah, D.A.N. Jones & John Ryle). Times Literary Supplement. 26th February, 1982.
Appiah, K. A. (2005). The Ethics of Identity. Princeton: Princeton University Press.
Appiah, K. A. (1992). In my Father's House: Africa in the Philosophy of Culture. Oxford: Oxford University Press.
Atanda, J. A. (1969). The Iseyin-Okeiho Rising of 1916: An Example of Socio-Political Conflicts in Colonial Africa. Journal of the Historical Society of Nigeria, 4(4), 497-514.
Atanda, J. A. (1990). An Introduction to Yoruba History. Ibadan: Ibadan University Press.
Awe, B. (1973). Militarism and Economic Development in Nineteenth Century Yoruba Country: The Ibadan Example. Journal of African History, 14(1), 65-77.
Awolalu, O. (1979). Yoruba Beliefs and Sacrificial Rites. Essex: Longman.
Ayoade, A. A. J. (1985). Party and Ideology in Nigeria: A Case of the Action Group. Journal of Black Studies, 16(2), 169-188.
Babatunde, E.D (1992). A Critical Study of Bini and Yoruba Value Systems of Nigeria in Change – Culture, Religion and the Self. New York: The Edwin Mellen Press.
Balogun, O.A. (2009). A Philosophical Defence of Punishment in Traditional African Legal Culture: The Yoruba Example. The Journal of Pan African Studies, 3(3), 43-54.
Bandele, B. [(Director) 2013]. Half of a Yellow Sun. [Shareman Media/Slate Films].
Beier, U. (1955). The Historical and Psychological Significance of Yoruba Myths. Biobaku & Beier. The Use and Interpretation of Myths. Odu 1, 17-25.
Bowen, T. J. (1968). Adventures and Missionary Labours in Several Countries in the Interior of Africa from 1849-1856. London: Frank Cass.
Capozza, D., & Brown, R. (eds.) (2000). Social Identity Processes. London: Sage Publications.
Castells, M. (2004). The Power of Identity – The Information Age: Economy, Society and Culture. Vol. 2. Malden, MA: Blackwell.
Calvocoressi, D., & David, N. (1979). A New Survey of Radiocarbon and Thermoluminescence dates for West Africa. Journal of African History, 20(1), 1-29.
Drewal, H. J. (1989). Yoruba: Nine Centuries of African Art and Thought. New York: Center for African Art.
Ekundayo, A. (2012). The Struggle for Autonomy and Identity in Late Colonial Nigeria: Young Elite of Kabba Division, 1946-1966. Journal of Nigeria Studies, 1(2) Fall 2012.
Fabian, J. (1986). Language and Colonial Power. Cambridge: Cambridge University Press.
Falola, T. (2018). The Falola Reader on African Culture, Nationalism Development and Epistemologies. Texas: Pan African University Press.
Farrow, S. S. (1926). Faith, Fancies and Fetish, or Yoruba Paganism. New York: Negro University Press.
Frobenius, L. (1913). The Voice of Africa. Volume 2. London: Hutchinson.
Idowu, E. B. (1962). Olodumare: God in Yoruba Belief. London: Longmans.
Isichei, E. (1983). A History of Nigeria. New York: Longman.
Jekayinfa, A. A. (2002). Implication of Competitive Ethnicity in the Process of National Building in Nigeria. Nigerian Journal of Social Studies, VI(1&2).
Johnson, S. C. (1921). The History of the Yorubas: From the Earliest Times to the Beginning of the British Protectorate. London: Routledge & Paul.
Laitin, D. (1986). Hegemony and Culture: Politics and Religious Change among the Yoruba. Chicago: University of Chicago Press.
Law, R. C. C. (1977). The Ọyọ Empire (c.1600-1836): A West African Imperialism in the Era of the Atlantic Slave Trade. Oxford: Clarendon.
Lucas, J. O. (1948). The Religion of the Yorubas. Lagos: CMS.
Ogundowole, E. K. (2013). Towards Negotiating Nigeria for Nigerians (2). The Punch Newspaper. http://www.punchng.com/opinion/towards-negotiating-nigeria-for-nigerians-2.htm.
Olojede, F. (2011). The Exodus and Identity Formation in View of the Yoruba Origin and Migration Narratives. Scriptura, (108), 342-356.
Reed, C. (1982). "The Role of Traditional Rulers in Elective Politics in Nigeria." Indiana University: African Studies Program.
Sklar, R. L. (2004). Nigerian Political Parties: Power in an Emergent African Nation. New York: Africa World Press.
Willet, F. (1971). A Survey of Recent Results in the Radiocarbon Chronology of Western and Northern Africa. Journal of African History, (12), 339-370.
Wood, J. B. (1885). Church Mission Intelligencer: A Monthly Journal of Missionary Information. London: Gilbert & Riving Ton Ltd.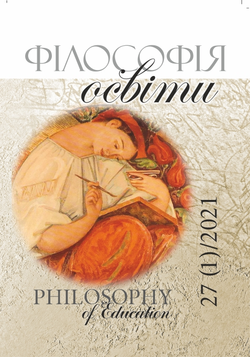 Abstract views: 148
How to Cite
OLAIYA, O. O. (2021). The Oughtness of the Politics and Culture of 'Created' Identities for Teaching Nigerian History: A Case Study of the Egbe Omo Oduduwa. Filosofiya Osvity. Philosophy of Education, 27(1), 141–153. https://doi.org/10.31874/2309-1606-2021-27-1-8
License
This work is licensed under a Creative Commons Attribution 4.0 International License.
Authors who publish with this journal agree to the following terms:
Authors retain copyright and grant the journal right of first publication;
Authors are able to enter into separate, additional contractual arrangements for the non-exclusive distribution of the journal's published version of the work (e.g., post it to an institutional repository or publish it in a book), with an acknowl­edgement of its initial publication in this journal.