Polish realistic philosophy of the twentieth century and its educational implications
Keywords:
Polish realistic philosophy, neothomism, anthropology of education, ethics, philosophy of education, pedagogical implications, personality
Abstract
Polish Thomism has developed an original philosophy of education and pedagogy (Stefan Kunowski, Jacek Woroniecki, Feliks Wojciech Bednarski, Mieczysław Gogacz and others), which correspond to particular varieties of this philosophy. In traditional thomism emphasis is placed on education of virtue. In exsistential Thomism philosophers focus on "becoming a man", to achieve full humanity, and in consistent Thomism philosophers focus on the effect of education and the issues of personal relationships and standards of education. Thomistic Pedagogy is the study of the choices in the principles of education. That's why M. Gogacz believes that "there is only the philosophical education". On the basis of recent studies in this field I carried away the impression that classic division designated by Plato's philosophy (idealism) and Aristotle (realism), can also be adopted for the purposes in the classification of education and upbringing theory. Through the analysis on idealistic and realistic anthropology and ethics I have attempted to show that a realistic paideia is still current and should be re-read. Novelty of this work is to "enter" the existing among pedagogues and philosophers standards of education into a specified philosophy of esse and resulting from it philosophy of man and ethics focused on protecting people and the theory of speech of the heart (sermo cordis). In my opinion, this is an innovative approach to the education and philosophy of education, and pedagogical implications arising from the so-understood recognition of man, his cognition and behavior may prove to befruitful on the pedagogical and educational level. All that is required by realism at the level of education are proper arrangements among educational strategies and the determination of who is a man.
References
Bednarski, F. W. (1987). Education of human drives and wills, "Polish Pastor Abroad", Rome: DP.
Błogosławiony Edmund Bojanowski. (2000). Heartily good man, S. Wilk (ed.). Lublin: Katolicki Uniwersytet Lubelski. [In Polish].
Eucken, R. (1908). Introduction to a Philosophy of Spiritual Life, Leipzig: Verlag von Quelle & Meyer. [In German].
Gałkowski, S. (1998). To the Good. The Topicality of Jacek Woroniecki's Upbringing Philosophy. Rzeszów: PH Higher Pedagogical School. [In Polish].
Gilson, E. (1958). The spirit of medieval philosophy / transl. by J. Rybałt, Warszawa: PAX. [In Polish].
Gilson, E. (1962) History of Christian Philosophy in the Middle Ages. From Justyna to Nikolaus from Kuza / transl. by S. Stomma,Warszawa: PAX. [In Polish].
Gogacz, M. (1993). Fundamentals of education. Niepokalanów: Publishing House of the Franciscan Fathers. [In Polish].
Kiereś, B. (2017). Human and education. From person to personality. Lublin: KUL. [In Polish].
Michalski, K. (1917). The position of priest Gabriel in the neo-scholastic movement. Ateneum Kapłańskie, (13), 46-56. [In Polish].
Swieżawski, S. (2005). The problem of the history of philosophy. Warszawa: Wyd. Naukowe Semper. [In Polish].
Tatarkiewicz, T., & Tatarkiewicz, W. (2011). Memories. Poznań: Panstwowy Instytut Wydawniczy. [In Polish].
Woroniecki, J. (1999) Catholic educational ethics. T 1-2, cz. I/II, Lublin: Fundacja Servire Veritati Instytut Edukacji Narodowej–Wydawnictwo KUL. [In Polish].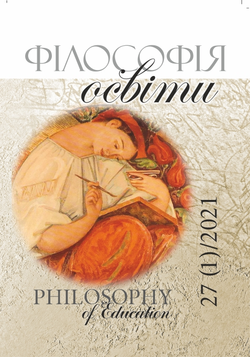 Abstract views: 161
How to Cite
Krasnodębski, M. (2021). Polish realistic philosophy of the twentieth century and its educational implications. Filosofiya Osvity. Philosophy of Education, 27(1), 98–123. https://doi.org/10.31874/2309-1606-2021-27-1-6
License
This work is licensed under a Creative Commons Attribution 4.0 International License.
Authors who publish with this journal agree to the following terms:
Authors retain copyright and grant the journal right of first publication;
Authors are able to enter into separate, additional contractual arrangements for the non-exclusive distribution of the journal's published version of the work (e.g., post it to an institutional repository or publish it in a book), with an acknowl­edgement of its initial publication in this journal.