Attempted Content Descriptions of the World of Values and its Ethical Implications
(tr. from pol. by Oleh Hirnyi)
Keywords:
description, estimation, norm, pressure, living and spiritual values, classification, hierarchical law, situational rules
Abstract
The paper presents an essay of a compact system of philosophical ethics, based on the psychological and phenomenological penetration into the structure of human values. Continuing the tradition of the rationalist philosophy of the Lviv-Warsaw School, the author makes methodological distinctions: description, evaluation, norms and requirements – and also considers the problem of psychological pressure. Unlike the traditional style of ethical treatises, the author strictly distinguishes the description as the basis of the scientific text, description and evaluation – as ethical and description, assessment and pressure – as pedagogical or propagandistic, choosing a purely ethical style of presentation, limited description and evaluation. For registration the author chooses the so-called "Auto-titel" values, and also takes into account the connection between the sense of value and the sense of its absence (needs), which is one of the principles of registration. Classification of values is carried out on the principle of their division into the values of the living room and spiritual values. To her, the author adds a classification of values according to human sensitivity, dividing them into the values of their own structure, connections with other people and connections with non-human environment. In the context of the submitted rationalist system of ethics, the author discusses the problem of idealism, realism and utilitarianism, as well as the significance of symbolic thinking, which is expressed in the form of so-called "Resolutions".
Based on the classifications made, the author formulates the main hierarchical law and examines specific situations that illustrate his observance and violation (for example, situations of overcoming the welcome positions and the situation of the devaluation of spiritual values), and also formulates a series of so-called "Situational rules" of morally good (ethical) behavior.
Reprinted with significant reductions.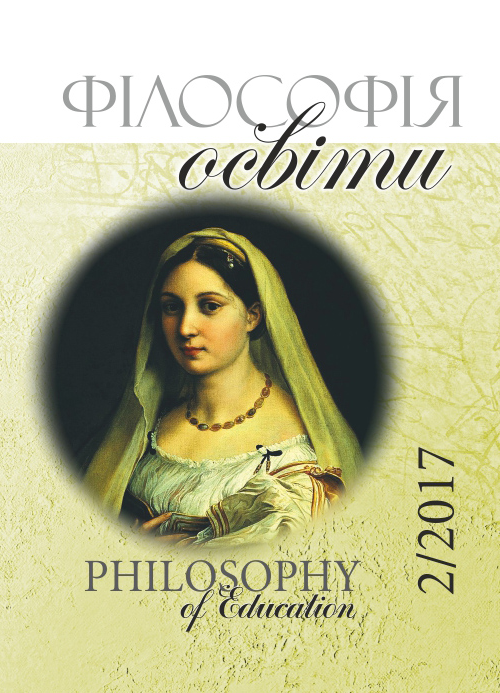 Abstract views: 406
How to Cite
Gzegorczyk, A. (2017). Attempted Content Descriptions of the World of Values and its Ethical Implications: (tr. from pol. by Oleh Hirnyi). Filosofiya Osvity. Philosophy of Education, 21(2), 115–152. https://doi.org/10.31874/2309-1606-2017-21-2-115-152
License
Authors who publish with this journal agree to the following terms:
Authors retain copyright and grant the journal right of first publication;
Authors are able to enter into separate, additional contractual arrangements for the non-exclusive distribution of the journal's published version of the work (e.g., post it to an institutional repository or publish it in a book), with an acknowl­edgement of its initial publication in this journal.